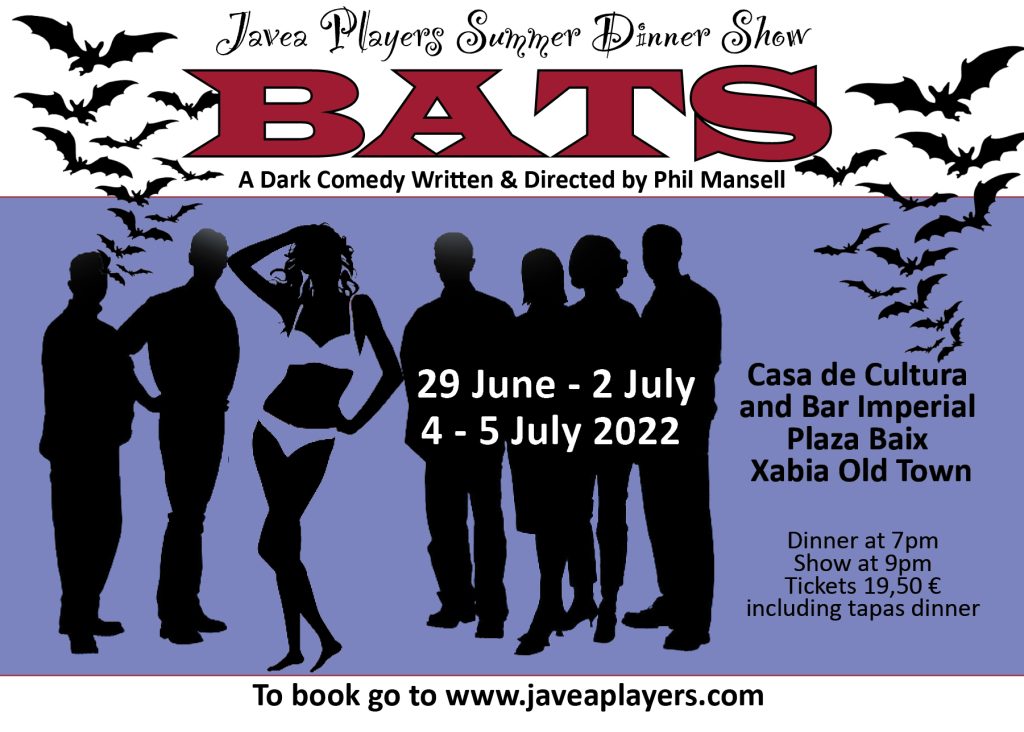 Javea Players present

BATS
June 29 and 30, July 1 and 2, July 4 and 5.
Come and enjoy a delicious alfresco tapas meal at Bar Imperial in the atmospheric Placa Baix in Javea's Old Town. Dinner will be followed by a dark comedy in the Casa de Cultura across the square.
Tapas Dinner starts 7.00pm and includes a menu of mixed salad, a variety of tapas with a vegetarian option, pan and alioli, dessert, and a ½ bottle of wine beer, or soft drink. Tables seat 20.
Bats starts at 9.00pm in the Casa de Cultura theatre a highly amusing and entertaining dark comedy written and directed by Phil Mansell.
Set in the living room of a house in a quiet cul-de-sac, a couple find their orderly lives are disturbed by an infestation of bats in the attic. Whilst awaiting the arrival of the council's bat exterminator they mistake a string of people who come to the door for him. When he finally does turn up, his work is interrupted by a birthday stripper gram and by the time he finally gets down to business, it looks like it might be too late…
Tickets 19.50€. Book here.