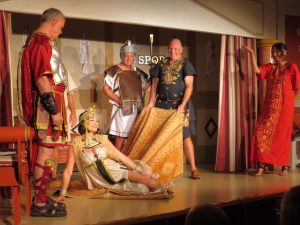 From Shakespeare to farce and everything in between, we, at Javea Players take our shows seriously, but ALWAYS with the emphasis on enjoyment and fun. We are a really friendly bunch and would be delighted to hear from you whatever your age and experience.
Some members started acting for the first time in their lives when they joined the Players and have made a huge success of it. Apart from acting there are a great many other skills that are needed in order to stage a play. For example, directing, stage management, constructing sets and props, making costumes, producing the music and sound effects, lighting the shows, ensuring that publicity is effective- the list is long. For all those jobs we welcome people with experience and expertise but also people who would like to learn.
Our social side is very important: the range encompasses such events as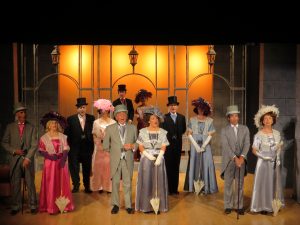 play and poetry readings, horse races, quizzes, singalongs and visits to Benidorm Palace. Apart from those events, social activities tend to evolve from productions; there are often pre- and post-play dinners. We try to produce a variety of plays ranging from comedy, to murder mysteries. The intention is to stage one production at the theatre in Gata de Gorgos, one in our Studio Theatre in Jávea and a summer production in the 'Old Town' of Jávea. In addition, about every two years we bring a one man/woman professional show from the UK. We also hold play readings.
Call our Membership Secretary, Cherry, on 636 798 109 for a chat or email her at membership.jp@gmail.com or for information on how to join click here Membership is just 15€ a year.