My Fair Lady Rojales Capitol Theatre Saturday April 13  2019 at 7.00 pm           Choose your Seats HERE
Check out the three vimeos: My Fair Lady  Set Building   Rehearsals/Costumes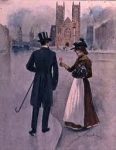 We do hope you and your friends will join us for this magical musical.
The bewitching story of a cockney flower girl's transformation into the pride of London Society
is also one of the best-loved musicals of all time.
When overbearing Professor Higgins stumbles on Eliza Doolittle in Covent Garden he believes that her tortured vowels and absent consonants are all that separate her from the upper classes.
Higgins makes a wager that he can pass her off as a Duchess in a matter of weeks.
Too elegant for a flower girl but lacking the breeding of the upper classes, what is to become of Eliza when the bet is over?
Come and enjoy the musical, My Fair Lady, based on the play Pygmalion by George Bernard Shaw.
Directed by Cherry Cabban
Musical Director Aileen Lightfoot
Choreography by Graciela Kaplan 
At Capitol Theatre Rojales see map HERE (open in a new tab)
Saturday 13 April 2019  Curtain up 7.00 pm
Tickets 12€ Book now HERE