Summer Social Evening

 
Tuesday 7th September in the Parador de Jávea
event begins with entertainment at 18.30.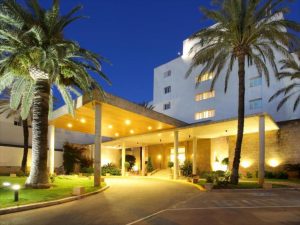 A fund-raising event in support of the Jávea Players kindly arranged by Angela & Tony Chantry. 
The cost will be €35 per person, which includes your donation to the Jávea Players, a glass of Kir Royale on arrival, a 3-course menu with ½ bottle of wine pp or beer or soft drink, plus water and coffee.
A waiter service will be available for any additional drinks such as brandy, G&T, etc. 
If you wish l to join in the tombola, a ticket costs €5 and every ticket will win a prize!
A covid health protocol will be in place and there will be allocated seating with tables for 6 guests, so you may book individually or request to share a table with friends (10 max. per table for group bookings). The large patio doors will remain open throughout the evening (as it will be a balmy summer's evening!).
There are a limited number of places available so don't miss out on this fun get-together with friends!
For menu choices and to book, contact Angela & Tony: travellers.tales@u3ajavea.com  
                               ———————————————————————————————————————————————————————————————–
Love Letters
directed by Cherry Cabban
Wed, Thur & Fri  22nd, 23rd and 24th Sept, and 29th and 30th Sept, 1st Oct at 8:00 pm
at the Jávea Players Studio Theatre.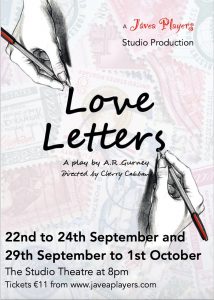 Love Letters, by A. R. Gurney was a finalist for the Pulitzer Prize for Drama. A disarmingly funny and unforgettably emotional portrait about the powerful connection of love. Melissa Gardner (Jen Kellow-Ward) and Andrew Makepeace Ladd III (Paul Hunter) recount and remember the notes, letters and cards sent to each other over 50 years. They discuss their hopes and ambitions, dreams and disappointments, victories and defeats – that have passed between them throughout their separated lives.
Evocative, touching, funny and compelling.
Tickets 11€ online from https://javeaplayers.com/jp/box-office/
Box office opens on 20th Aug 2021
For full health measures, together with seat plan, click HERE 
---
 Duets
by Peter Quilter 
10th to 13th November and 17th to 20th November 
at the Jávea Players Studio Theatre.
'Duets' collection of 4 light comedies exploring relationships, all set in the same living room. Four sets of characters, four crucial moments.
           Jonathon and Wendy are on a blind date and hoping to get it right this time, even though they've never got it right before.
           Barrie is not really interested in women, but Janet sees that as no reason to stop trying.
           Shelley and Bobby have decided to holiday in Spain to finalise their divorce whilst drowning in cocktails.
           Angela is marrying for the third time to the dismay of brother Toby, and amidst a barrage of bad omens and a dress resembling a parachute.
A gloriously funny examination of the chaotic world of love, relationships and why the grass is never greener. 
Duets is an hilarious tribute to the strength and madness of the human heart.
"This bittersweet quick-change comedy is streaked with pathos and is effortlessly charming, with each character sketched with verve and skill." (Sydney Morning Herald)
"Warm, funny and endearing" (Daily Telegraph)
"Compelling, dense, funny and varied.  The language is always beautifully rendered and emotionally satisfying … a play to be treasured!" (Atlanta Theatre Review)
Peter Quilter's plays have been produced in forty countries around the world and translated into thirty languages.  He has had three successful shows in London's West End, a hit run on Broadway, and has twice been nominated for the Olivier Award – for Best New Play and Best New Comedy.  The popular comedy 'Duets' has dozens of productions every year and has toured in many countries and is opening soon in the west end.
Bookings Online at: www.javeaplayers.com/jp/box-office/ which opens on 15th October 2021                                                                       
---

 

Pip Utton

 
                    7th – 12th February 2022                   
   in the Jávea Players Studio
We look forward to welcoming back to Javea, Pip Utton, who will perform three of his unique one man shows, Charlie Chaplin, Margaret Thatcher and The Hunchback of Notre Dame. Pip is an accomplished and very well known professional actor. During his visit in January 2020 he portrayed Einstein and Winston Churchill to full houses and great applause.
Below you can read about the characters that he will bring to life in February 2022, Chaplin, Margaret Thatcher and the Hunchback of Notre Dame.
Thorough Health safety measures will be in effect.
                                                                         Box Office opening date to be announced.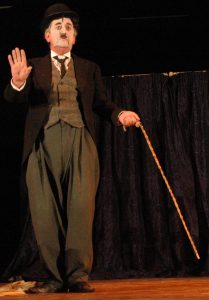 Chaplin is a gentle play; with a little edge to it. Rather like Chaplin's films.The Tramp made Chaplin the best-known and best-paid film actor of his age, opened the doors of society and celebrity, and gave him riches and endless young women.Not bad for a street urchin brought up in the Dickensian slums and workhouses of late 19th century London! Chaplin's career in film spanned the first sixty years of the movie industry. Did Chaplin's genius develop alongside or did it remain only in those early silents?
Chaplin created an image of himself for public consumption that hid the darker sides of his personality.  Pip Utton steps in and out of the screen to become Chaplin, stripping away the myths and revealing the man beneath.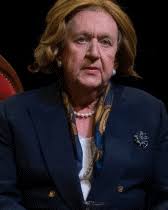 Margaret Thatcher: Pip IS The 'Iron Lady'! Saviour or witch? Love her or hate her?  Not for Pip to decide, only to portray. She divided the nation like no other politician, she changed the face of British, perhaps world politics forever, and the effects of her influence and policies are still felt today. Listen once again to her philosophies, her inspiration and her logic, and then take the chance to ask Her a question!!!! The performance is full of laughs and at the same time raises serious thoughts and discussions and, because of the audience involvement, every performance is different!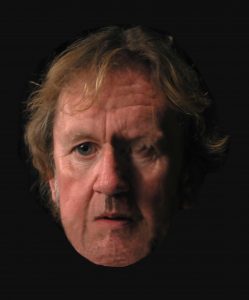 The Hunchback of Notre Dame: Darkly enthralling and utterly heart breaking, this arresting one man show is more evocative than any I have seen. Pip Utton masterfully delivers a hauntingly realistic portrayal of a man who has been so hurt by the cruelties endured due to his disfigurements that he plans to fall to his death from the top of Notre Dame. However this poignant climax is only reached once we have been privy to Quasimodo's life story. Actor and script converge to form a character whose depth of pain, sorrow, and anger are almost overwhelming; each word is loaded with a depth of meaning that is unfaltering. A one man masterpiece.
---
Oliver!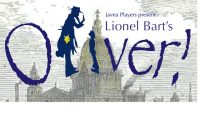 Spring 2022
---