ARE THERE MORE OF YOU?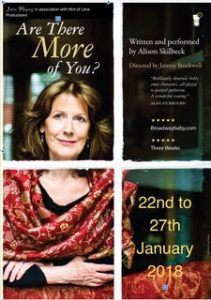 Written and performed by professional actress, Alison Skilbeck. 
 Monday 22 to Sat 27 January 2018
Javea Players Studio Theatre, Javea
Alison Skilbeck showcases her versatility by writing and performing all the roles in a script made up of four character-revealing monologues – tied together by cross-references that fill in some of the back- and future-stories of the others. A newly divorced woman begins to come out of her mourning and rejoin life without fully realising she's doing it, a cafe owner describes a chaotic night, a psychic healer discovers that a trusted client has betrayed her and a tough businesswoman reveals a soft and vulnerable core. The tales range from sad to farcical, and the touches of interconnection – such as the restauranteur noticing the divorcee – round out a sense of the characters beyond what they say about themselves.
And knowing each character so fully, Skilbeck the actress can fully develop and enrich what Skilbeck the writer has created.
After the performance Alison will hold a "Question & Answer" session with the audience.
"Go see how comedy character acting is done." Miranda Hart  
"Brilliantly observed, richly comic characters all played to perfection. A wonderful evening." Alan Ayckbourn 
Tickets 12€ online at www.javeaplayers.com
Any Booking problem email boxoffice@javeaplayers.com  Or call: 620 412 384