Look Out – He's Got A Gun! Wednesday
4th December 2019 8:00 pm - 10:00 pm
Studio Theatre, Calle Cronista Figueras Pacheco 6
Doors open at 7.30 and the show starts at 8pm prompt and finishes at 10pm.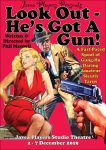 Only 0 tickets left! There are NO ALLOCATED SEATS for this performance.
Please click 'Add to Basket'
On next page adjust 'Quantity' for number of seats required,
Then click 'Update Basket' and then
Click 'Proceed to Checkout' where you pay with your credit/debit card.
€ 10.00Read more
NOTE: Due to the constraints of this system, a booking cannot be changed once it is paid for. It can be cancelled by contacting the Box Office who will refund the ticket price, you can then be re-book using the booking system. Tickets must be cancelled at least 72 hours before the event, to qualify for a refund
If you do not receive an email after completing your booking, please check your SPAM box and add boxoffice@javeaplayers.com to your Contacts list