Click

HERE

for details of Summer Dinner and "Master of the Musical" July 27- Aug 1st
Javea Players have two interesting volunteer job opportunities for a Box Office Manager and a Sound Engineer/Technician:
WANTED – BOX OFFICE MANAGER 
The Jávea Players are looking for a Box Office Manager
We are a busy theatre group, with a range of actors and support staff who form teams for each new production.  See www.javeaplayers.com
After three years of excellent service, David and Judith Goodall are standing down as our Box Office Managers, so we are looking for someone to volunteer to take on the job.
Thanks to David's innovative efforts, the job has become simpler and much better organised since he took on the challenge.
David is willing to provide hands-on training, explain the operation manual that he has developed, and provide ongoing support. We also have access to professional support if required.
We plan to completely eliminate cash ticket sales at the door after the next Summer Show, which will avoid the need for the Box Office Manager(s) to be physically present at future productions. This will allow a major simplification of the current role requirements.
The job involves about five hours work for each of the planned four productions per year. In addition, we intend to make this a team function in order to reduce the individual workload.
The current, and other, managers have found the job fun, satisfying and interesting.
Will YOU consider taking it on???
Why not talk to David on 657 579 405 to find out more?
The Javea Players
June 2020
WANTED- Sound Engineer/Technician
The Jávea Players are seeking an additional Sound Engineer/Technician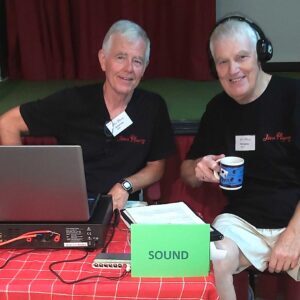 We are a busy theatre group, with a range of actors and support staff who form teams for each new production.
One of our two sound engineers/technicians recently retired, so we need to recruit a replacement.
If you have any background in sound recording or sound reproduction, that would be advantage, but just being interested in the preparation of sound effects, and subsequently playing them during shows, would be enough.
There is plenty of knowledge available to help you through the learning curve, along with access to a large library of sound effects. Induction training will be provided.
If you would like a demonstration of the activity, or simply wish to chat about Sound, please call Peter Sparks (678 036 850), or email him by clicking HERE.