BAZAAR & RUMMAGE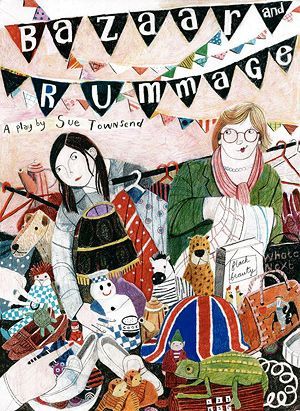 Bazaar and Rummage is a hysterical comedy by Sue Townsend (author of  The Secret Diary of Adrian Mole Aged 13 and 3/4 and The Queen and I) set in a multi-purpose church hall in Acton, West London. Gwenda, a neurotic do-gooder and trainee social worker Fliss, manage to persuade three agoraphobic women: Katrina, an ex-variety songstress, Margaret, a working-class vulgarian and Bell Bell, a women obsessed by cleaning, to venture out of their homes after several years to run a jumble sale.
Performance dates are 25th – 30th April 2022 in the Gata Musical Theatre.
The director is new member, Richard Haddon.
After 5 years with the National Youth Theatre of Great Britain & drama school, Richard started out as a 'jobbing' actor undertaking numerous minor TV & film roles appearing in Eastenders, The Chief, Last Evensong, Allo, Allo! & The Bill, as well as several films including Kenneth Branagh's Henry V & Provoked. He worked as a letter reader on BBC's Points of View for nearly two years with Anne Robinson.
He was cast twice to work with Michael Caine – but the scenes were never filmed – ask him for the stories! Around the same time, he began directing plays on the London fringe; Bent by Martin Sherman, Bring Me Sunshine, Bring Me Smiles by C.P. Taylor & Bazaar & Rummage by Sue Townsend – the latter transferring to two hugely successful national tours, the casts staring Lesley Joseph & Jill Gascoine.
As a producer, he has produced national tours of the farce When Did You Last See Your Trousers? with Linda Lusardi, Home Truths with Christopher Cazenove (as executive co-producer), and the premier national tour of The Hitchhiker's Guide to the Galaxy Radio Show Live! featuring the original Radio 4 cast.
Extensive work in London's West End in stage management & production including Les Miserables (Queens), The Phantom of the Opera (Her Majesty's), The King & I (Palladium), Grease (Cambridge), Tommy Steele – What a Show! (Prince of Wales), Royal Variety (Palladium) & Oklahoma! (Lyceum).
Richard toured with the musical Grease to Sweden & Finland, and also has taken a production to the John F. Kennedy Arts Centre, Washington DC, where he received an invitation to visit The White House!
Richard and his partner now run a very successful bakers' shop called Chicos in Pedreguer. Their shortcrust steak and ale pie alone is worth a visit!!