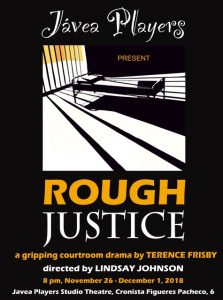 Our next production, Rough Justice, is very different from other recent productions, we are not going to give away all the surprising twists and turns but …..
James Highwood, a television commentator who hosts a widely watched programme called British Justice? is on trial for the murder of his severely disabled child. Despite pleas from his solicitor, Jeremy Ackroyd, he insists on conducting his own defence, admitting responsibility, but pleading manslaughter. His arguments fuel conflict with the prosecutor, Margaret Casely QC, a well-known Catholic and pro-lifer, and his claims that the jury alone is responsible for the verdict create further conflict with the Judge.
The action in this gripping court room drama moves between the courtroom and prison cell.
Rough Justice
 Directed by Lindsay Johnson
will be performed at the Javea Players Studio Theatre
from 26th Nov to the 1st December at 8pm.
Box Office opens October 15
Tickets, 10€ ,are available on our web site www.javeaplayers.com
any booking problem email boxoffice@javeaplayers.com
We have arranged that La Cocina will open especially to offer you a pre-theatre dinner from 6 pm each night. They offer a special two course menu including ½ bottle of wine for 17,50€  per head . See the menu at www.lacocinajavea.com and click Javea Players. Dinner bookings 96 579 5140.
We look forward to welcoming you
The Javea Players
 My Fair Lady 
Adaptation and Lyrics by Alan  Lerner.
Music by Frederick Loewe  
March 25-30 2019
  Union Musical Gata de Gorgos
 Directed by Cherry Cabban