To be informed of Future Productions join our eMailing List  HERE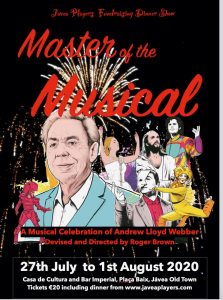 Summer Dinner & Show
July 27 to August 1st 2020 in Plaza Baix , Jávea Old Town
A delicious al fresco dinner of Salad, Tapas + Dessert , 1/2 bottle of wine, bread & water in one of the loveliest old squares in Jávea Old Town, followed by:
Master of the Musical
 a Musical celebration of Andrew Lloyd Webber.
Devised and Directed by Roger Brown.
In the Casa de Cultura in Plaza Baix
In order recoup some of our lost revenue we will bring you a celebration of the musical genius that is Andrew Lloyd Webber, accompanied by backing tracks. The show will include some of the finest singers in the Marina Alta.
Booking details will be posted here in June.
We are working closely with local authorities to ensure that every aspect of the evening will be organised to ensure that the health of audience, performers and restaurant staff is fully protected.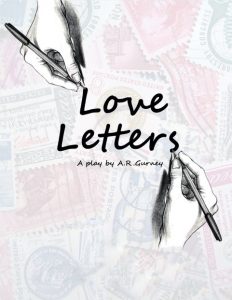 November 16-21st 2020
Love Letters by A.R.Gurney.
Director Cherry Cabban
in Javea Players Studio Theatre or in the Casa de Cultura, Javea Old Town
Jan 25-30 2021 Pip Utton 
We are looking forward to welcoming back Pip Utton who will perform a couple of his unique one man shows.
March 21-26  2022: The Musical "Oliver!"