To be informed of Future Productions join our eMailing List  HERE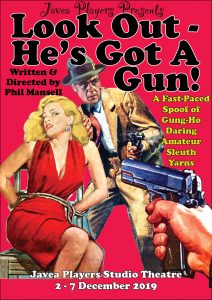 December 2nd to 6th 2019: Look Out – He's Got A Gun! Director  Phil Mansell in Javea Players Studio
You are invited to climb aboard for a nostalgic trip back to the 1950s when Javea Players present 'Look Out – He's Got A Gun!' at the Studio Theatre in December.
The plot is action-packed. Scotland Yard's top detectives are baffled. What's the link between the Purple Cockatoo nightclub and a ring of white slave traders who are abducting jolly nice gals? They call in crime novelist and amateur sleuth Steve Dexter and his lovely wife Eve, to help solve the case. The Dexters leave their fashionable Mayfair flat to question suspects – and there are plenty of those. There's also action galore as the snipers take pot shots at the Dexters and their car is forced off the road. Can the Dexters track down the kidnappers before Eve becomes their latest victim?
This fast-moving and light-hearted homage to the radio serials and British B-movies of the 1940s and early '50s is written and directed by Phil Mansell who brought you 'Poor Yorick' in last year's sell-out summer show.
Spring 2020: To be announced
Summer 2020: To be announced
Autumn 2020: Love Letters Director Cherry Cabban
Autumn 2020:  Westenders style show   Director Roger Brown