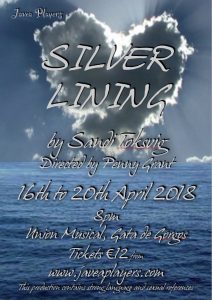 SILVER LINING  by Sandi Toksvig –
Directed by Penny Grant 
At Union Musical Gata de Gorgos
April 16-20 2018 at 8 pm
Every cloud has one, but there are clouds aplenty outside the old people's home in Gravesend that is the setting for this production written by the well-known broadcaster, author and comedienne, Sandi Toksvig.    The situation of the five elderly ladies who live on the upper storey of the building is precarious.   The coastal town of Gravesend has been over-whelmed by a flood of biblical proportions, and the inhabitants have been evacuated, all save the old ladies whose dithering has now left them stranded, as the waters rise inexorably towards the upper floor of the building. 
The ladies are not well pleased by the arrival of a young "temp" carer with attitude.  Her attempts to get the ladies to leave the building just get their backs up until she too finds herself trapped in the building as well .  Are they defeated?
Of course not!  Trading stories of their remarkable (or sometimes unremarkable) lives, they are faced with the realisation that in order to survive they are going to have to do what they have done all their lives.  Face the danger and do it themselves  –  Senior Citizen Style!
Bookings open March 1 2018 Tickets 12.50€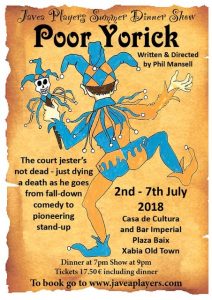 SUMMER DINNER SHOW – POOR YORICK
Written & Directed by JP Member, Phil Mansell
2nd to 7th July 2018
Tapas Dinner with Wine, Water, Pan & Ali Oli in Plaza Baix
followed by Poor Yorick in the Casa de Cultura, Jávea Old Town
Tickets 17.50€ to include meal and show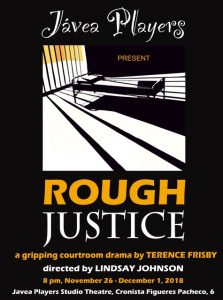 ROUGH JUSTICE  
November 26-Dec 1, 2018                                                           
 Javea Players Studio  Theatre
 Directed by Lindsay Johnson 
 My Fair Lady 
Adaptation and Lyrics by Alan  Lerner.
Music by Frederick Loewe  
March 25-30 2019
  Union Musical Gata de Gorgos
 Directed by Cherry Cabban