July 27th to August 1st 2020 in Placa Baix , Jávea Old Town
We will provide a super tapas dinner and  entertain you in style while recovering some of the income we lost during lockdown.
YOUR SAFETY IS OUR PRIORITY.
Click HERE (opens a new tab) to see details of all Health Protection Measures being taken for the evening. 
Starting at 7 pm: A delicious al fresco dinner of Salad, Tapas + Dessert , 1/2 bottle of wine, bread & water in one of the loveliest old squares in Jávea Old Town
then at 9 pm: in the Casa de Cultura in Placa Baix, Javea Old Town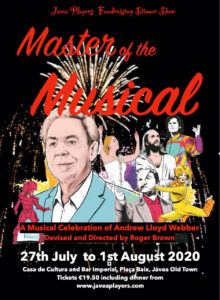 Master of the Musical
 a Musical celebration of Andrew Lloyd Webber.
Devised and Directed by Roger Brown.
A celebration of the musical genius that is Andrew Lloyd Webber, accompanied by backing tracks. The show will include some of the finest singers in the Marina Alta.
Tickets 19.50€  to include Dinner and Show.
Bookings open Saturday June 27 at 09.00 am 
We are working closely with local authorities to ensure that every aspect of the evening will be organised to ensure that the health of audience, performers and restaurant staff is fully protected, but if your booking is for less than 4 people, you may be seated with others for the meal and show. 
To book, click on the picture below for the day you want to attend:-